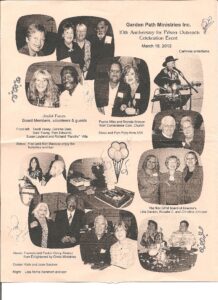 WWW.gpmoutreach.org
Based in Southern California, Garden Path, a Christian Ministry, offers resources for building good character and emotional health. Our focus is on prison outreach: to provide study materials (Bibles and Bible studies) and programs to inmates and those in recovery.
We are dedicated to:
• Reconcilliation
Drawing others into a closer relationship with
Christ.
•Restoration
Re-establishing emotional health and building
good Christian character.
•Regeneration
Encouraging and equipping men and women to be fruitful servants in God's Kingdom.
Garden Path Ministries is doing what God has
called us to do in the area of outreach to men
and women in prison. With continued donations, GPM will provide the following resource and
study materials and practice helps:
• Bibles
~ Free on the Inside NIV
• Bible Studies
~ Come Back to the Garden
~ Turning From Darkness to Light
• Programs
~ Living Skills for Success Video Classes
~ Life Coaching
Our purpose is to give HOPE to men and women who
are struggling with difficult life circumstances.
If you need more information, please contact the
Garden Path Ministries Office:
(951) 244-6132 or gardenpath@verizon.net
Mission Statement
Archway to the Path
Isaiah 61:1 The Living Bible
"The Lord has anointed me to bring good news to the suffering and afflicted, to comfort the brokenhearted, to announce liberty to